After a week with no wifi (what did people do before internet?!?!?) I'm back with a new craft crush.
I noticed a while back that cacti are very 'on trend' this year. But to be honest I wasn't really on board with this trend. I had two little cacti when I was younger and never really liked the spiky little things. That was until I started seeing this trend being translated into craft!
Handmade cacti made from all sorts of materials have been popping up on pinterest and in etsy newsletters for the past few weeks and I think they are just adorable. You have the chic look without the actual prickles.
So here are a few of my favourites: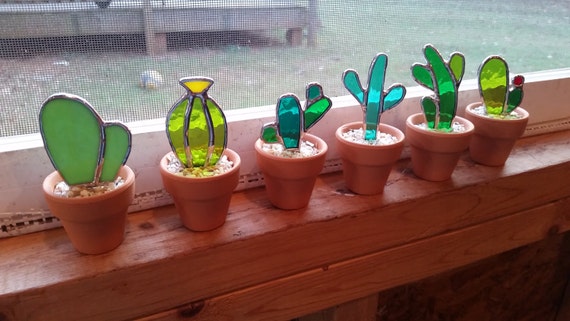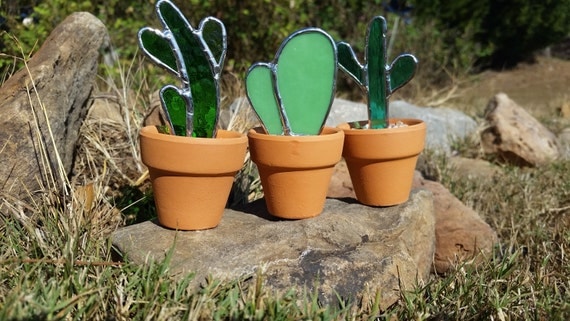 These stained glass cacti by MooncalfGlass are adorable. I love them lined up by the window, bringing in colour without blocking the light. There is also a hanging version.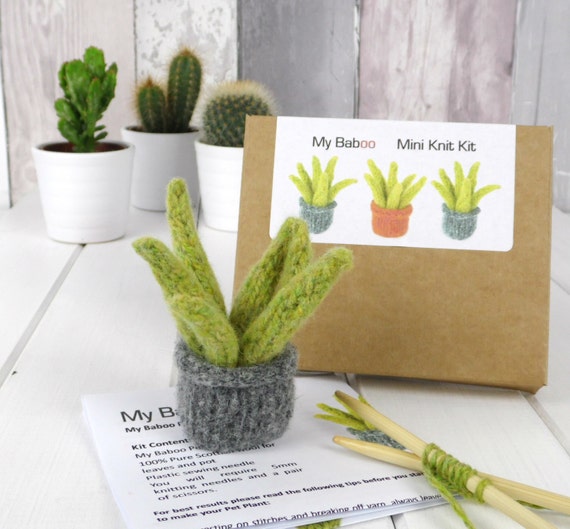 If you want to have a go at making a cactus yourself try out mybaboo's Mini Knit Kit! This looks more like aloe vera to me but you can find lots more knitted cacti on etsy. I particularly like this luxury wool pin cushion.
I love this project by Veronika Richterova featured on Colossal made from recycled PET plastic. It is visually stunning and has an inspiring message. Her website a tribute to PET bottles is really informative and in the gallery of her work you can see many more examples of her sculptures made from PET plastic. Time to start collecting bottles and having a go myself I think.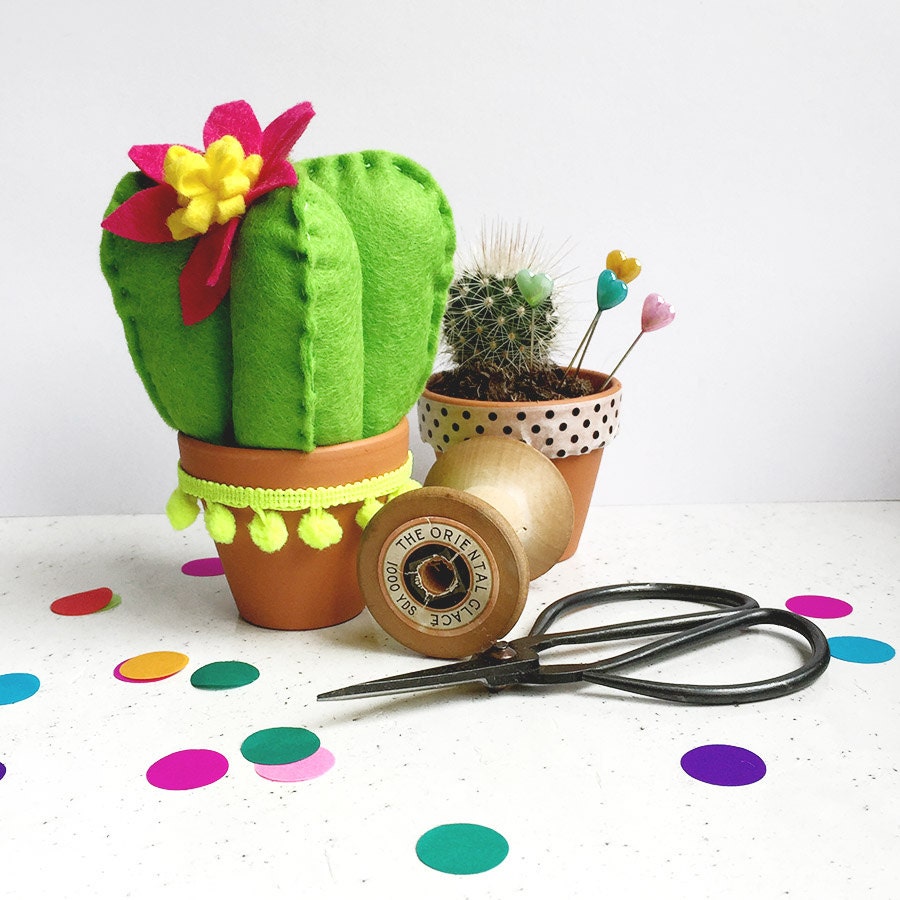 Here's another simple cactus craft kit, this time made from felt. Probably easy enough to be a nice craft project for kids. The great thing about this one is that it is in flower all year round 🙂
I've seen an awful lot of variations of stones painted to be cacti. They are cute and fun and is an easy craft project for kids. Here (above) you can see some by Salt and Pepper Moms.
I just love these colouful and quirky paper cacti by illustrator Kim Sielbeck featured on Brown Paper Bag.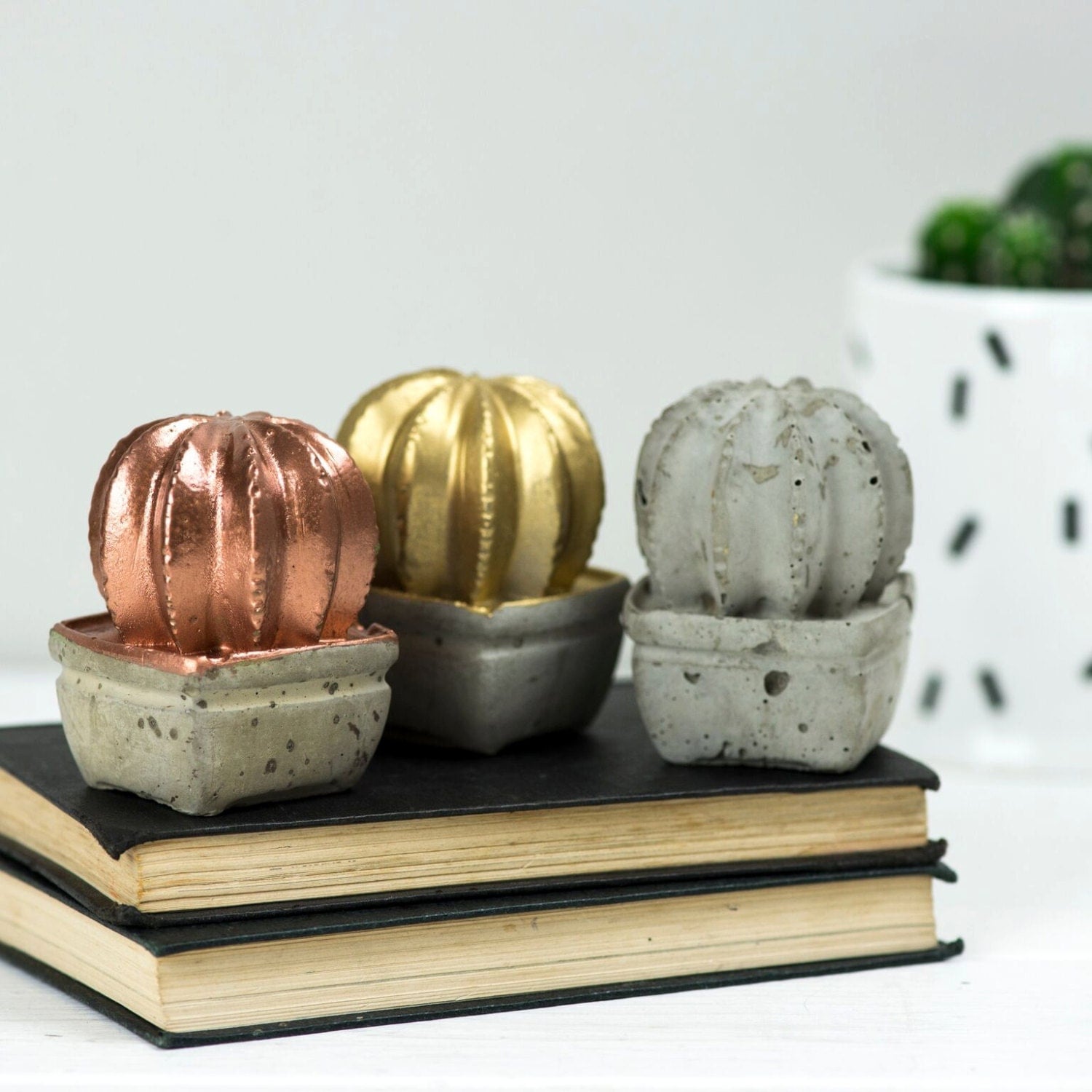 And finally, what is life without some concrete? These concrete cacti could make a great paperweight or bookend.